As a child, the last school day before May 1st was devoted to making dozens of paper cones with handles out of construction paper.
These we'd take home to be filled early on May Day morning with whatever flowers were available. On my block, that was
Bridal Wreath Spirea
(above) from a kindly neighbor's yard.
We'd load a little red wagon with our creations and leave one at each front door on the block, ringing the doorbell where possible, knocking lightly if not,
never
waiting for the occupant to answer.
We naively assumed they wouldn't know who left the May Day "surprises", but of course they
all
did and looked forward to pretending to be surprised when they did open the door.
Well, all except the grumpy old man who'd come out shaking his fist and yelling "Those damn kids!" while behind him, his wife would be smiling broadly as she proudly carried the bouquet into the house. Far as we could tell, these were the only flowers she received all year, so we always stuck a few extra sprigs into
her
"surprise".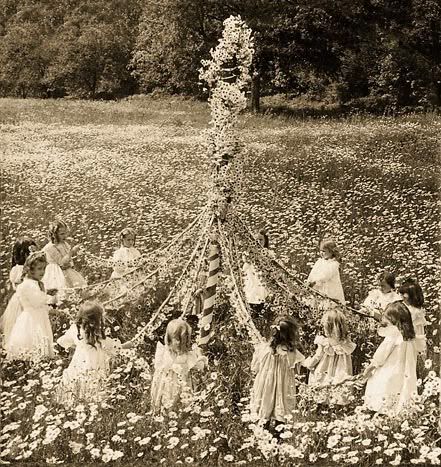 I don't recall ever dancing around a Maypole at school

or


Sunday School, probably because it's a pagan tradition.

Therefore, I'm guessing the little girls
above

didn't

live in the Bible Belt!
May 1st hasn't always been a happy celebration of the beginning of summer.
Tyler McClelland
tells about the dark side of this day in
Of Maypoles and Massacres: A Short History of May Day in America
.
If you or a friend or relative has lost a camera
, memory card, memory stick, or even a roll of undeveloped film, someone may have found it and is trying to reunite it with its owner at
Found Cameras and Orphan Pictures
. You can search by country or U.S. state.
If you recognize the couple at right,
please
go to
Camera Found - Athens Greece
and leave a comment to that effect so that the memory card that this and other photos are on can be returned to its rightful owner.
"Found Cameras" was in this week's
Passing It On: Five We Like
at the genealogy blog of Larry Lehmer, former senior editor, reporter and newsroom manager at the prestigious
Des Moines Register
who now runs
When Words Matter
, an editorial services company specializing in preserving personal, business and organizational histories.
Buddy Holly
fans may know Larry as the author of
The Day The Music Died: The Last Tour Of Buddy Holly, the Big Bopper and Ritchie Valens
.
Last but not least, genealogists and family historians might appreciate the following from the Family History section of the
Mormon Times
:
Have a great weekend!